宁波美术馆碑记
---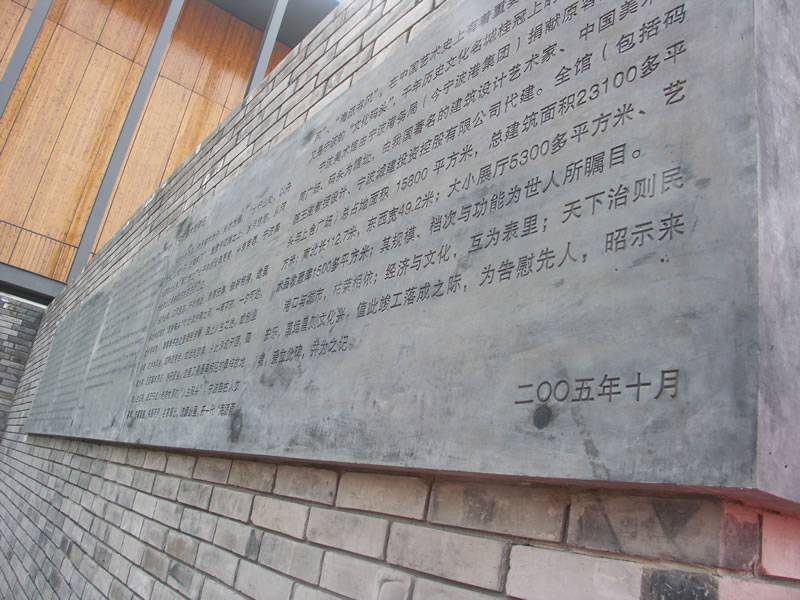 宁波地处海滨,先民刳木为舟,剡木为楫,"水行山处,以舟为车,以楫为马,往若飘风",渔猎于江海之上。岁月悠悠,从河姆渡到北仑港,甬江流过了七千年的沧桑更替、兴衰荣辱,宁波美术馆原址正是港城历史变迁的见证。
遥想当年,江风浩荡,千帆竞发,商贾云集,舳舻相接,这里是吐纳四海的"百货码头"。尤其沪甬之间,一苇可航,一夕可达,世代甬帮商人、莘莘学子在这里揖别乡亲,踏上人生之途。或创业沪埠,或游学异乡,或转道港台,或远赴欧美,从此浪迹天涯,四海为家。及至暮年思归,游子还乡,这里又是最早相迎的桑梓故地或人生归宿,或曰宁波人走向世界的"人生码头"。宁波自古人文荟萃,艺事繁盛,书画两界,名家辈出,流派纷呈,开一代"海派画风"、"海派书风",在中国艺术史上有着重要的历史地位,故此地又是宁波的"文化码头",千年历史文化名城桂冠上的一颗耀眼明珠。
宁波美术馆由宁波港务局(今宁波港集团)捐献原客运大楼连同广场、码头为馆址,由我国著名的建筑设计艺术家、中国美术学院王澍教授设计、宁波城市投资建设有限公司代建。全馆(包括码头与上台广场)总占地面积15800平方米,总建筑面积23100多平方米;南北长112.7米,东西宽49.2米;大小展厅5300多平方米、艺术品收藏库1500多平方米;其规模、档次与功能为世人所瞩目。
港口与城市,枯荣相依;经济与文化,互为表里;天下治则民安乐,国运昌则文化兴。值此竣工落成之际,为告慰先人,昭示来者,爰立此碑,并为之记。
二〇〇五年十月
---
Epigraph to Ningbo Museum of Art
Ningbo is by the sea. The forefathers scooped trees to make boats and chopped wood to make oars. "People moved on water and lived in mountains, using boats as carts and ores as steeds." The ancestors lived here on fishing. Yongjiang, the mother river, runs from Hemudu, a birthplace of the Chinese culture, through 7000 years of civilization, to Beilun, an imposing modern seaport. It bears the impress of the rise and decline of times and keeps memory of the honors and disgrace of the people. The Ningbo Museum of Art is just located where the Ningbo Port used to be,a place which has testified the vicissitudes of the port city.
Back in early times, merchants flocked here to seek opportunities. Far beyond at the eye level on the Yongjiang River were merchant ships, running head to tail. The port was a dock for both merchants and scholars of Ningbo to go seeking fortunes or knowledge in other countries or places. As a ship from Shanghai could reach Ningbo overnight, generations of Ningbonese bid farewell to their folks at this dock and headed for Shanghai, Hong Kong, Taiwan, and even Europe and America. When they came back to their home town, this was always the place they first set foot on. Ningbo has long been a birthplace of talents, and particularly talents of calligraphy and painting. Numerous virtuosos were born here, representing different schools and styles. They have developed the Shanghai-style painting and the Shanghai-style calligraphy, which take an important status in China's art history. Therefore, this place is also famed as a Culture Dock of Ningbo-a jewel on the crown of the famous historical and cultural city.
Ningbo Museum of Art comes from a renovation of the donated passenger building, the square and the terminal of the old Ningbo Port. The donator is the former Ningbo Port Administration (presently Ningbo Port Group). The Museum is designed by Prof. Wang Shu, a famous architect with China Academy of Art, and built by Ningbo City Investment Construction Co., Ltd. It is 112.7 meters long (E-W), and 49.7 meters wide (N-W). The Museum, including the dock and the upper square, covers 15,800m2 of land, with a total construction floorage of 23,100m2. The exhibition halls total 5,300m2, and there is a 1,500m2 store room for art works.
The Port and the City go through foul and fair together; economy and culture set off each other; a stable and thriving country makes its people well off, and prospers the culture as well. On the occasion of the inauguration, we have the memorial tablet set up here in memory of our forefathers for the generations to come.
October, 2005